Bed: 1 Victorian King
Max: 2 People
Private Bathroom: Yes
Gas Fireplace Yes
Air Bathtubs/Jacuzzi: Yes
Flat Screen TV: 40″ LED TV
Air Conditioning: Yes
Minimum Stay: 2 Nights
High Speed Internet & Wifi: Yes
Breakfast Included: Yes
Afternoon Tea Included: Yes
Streaming TV: Yes
In-Room USB Chargers: Yes
Bluetooth Speakers: Yes
Alarm Clock Radio: Yes
Hair Dryer: Yes
Iron & Ironing Board: Yes
Luxurious Toiletries: Paya Collection
Use of the Inn's Guest Pantry: Yes
Use of Bicycles: Yes
Includes Beach Bags, Guest Beach Towels & Beach Chairs: Yes
Located on the 1st Floor of Casablanca with its own private entrance, Coco Rain is a stunning room with a cathedral ceiling, a lovely King bed, a glowing gas fireplace, and a large private bathroom with a step down shower and free-standing Air Bathtub.
Adorned with natural wood décor, white linens, and greenery, beautiful lighting, large flat screen TV, jute rug over hardwood floors, along with many other amenities, a stay in this elegant and sophisticated room will set the backdrop for relaxation and romance.
All of our rooms are fully air conditioned, and include luxury toiletries by Paya, in wall USB chargers, LED flat screen TVs with Cable, free high speed internet and wifi, and come with access to our pantry for a late night tea or to store your restaurant leftovers.
Enjoy a delicious breakfast, afternoon tea, the use of our bicycles, towels and beach chairs.
Coco Rain is the room to choose if you prefer a bit more privacy. Located on the 1st floor, access to Coco Rain is through the patio area and has its own private entrance.
Bedroom – approximately 170 sq. ft.
Bathroom – approximately 90 sq. ft.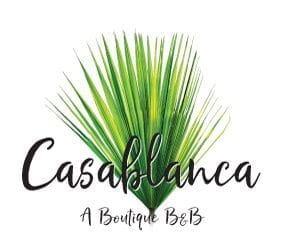 King Rooms at Casablanca:
Queen Rooms at Casablanca:
---
Tags: Bed and Breakfast Cape May / Romantic Bed and Breakfast / Cape May B&B / Cape May Hotels / Luxury Hotel Suites